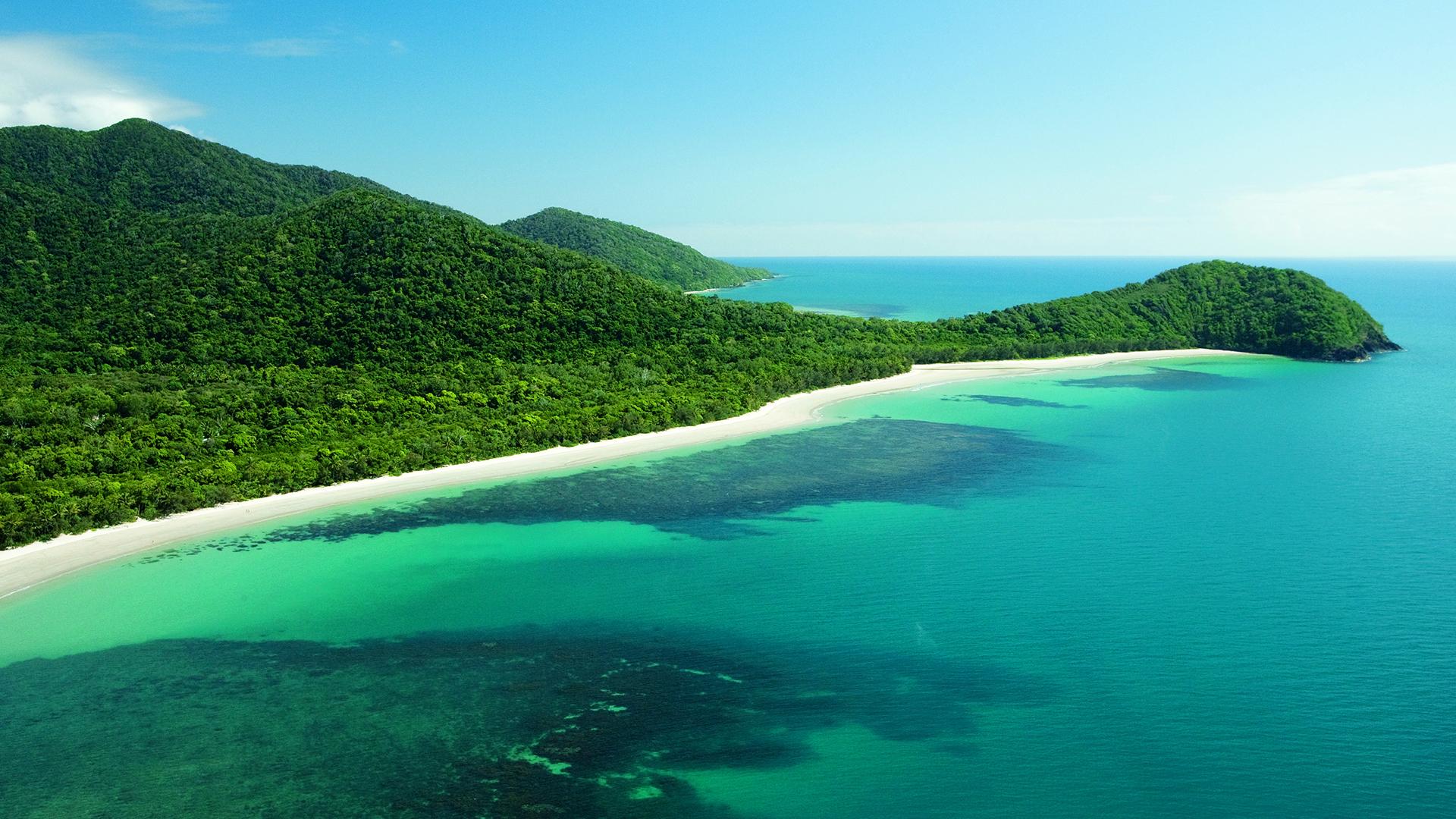 🌿CONSCIOUS COLLECTION: Luxe Boutique Stay Where The Daintree Rainforest Meets The Great Barrier Reef
Experience the magical place where the reef meets the rainforest - and the only place in the world where two UNESCO World Heritage-listed sites meet - with a stay at the recently opened Mist at Cape Tribulation, a collection of boutique pavilions in Queensland. Surrounded by some of the world's rarest palm trees, stay in a luxe apartment just a 30-metre stroll from the pristine rainforest. Included in your getaway is a bottle of French champagne and imported beers on arrival, a breakfast hamper, a gourmet cheese platter and more.
Package Options
---
RAINFOREST RETREAT
Luxury Pavilion - Nov 18
Inclusion Highlights:
Inclusions valid for two people (max. room capacity is two adults and one baby, see 'Fine Print' for details)
Welcome bottle of French champagne and imported beers
Breakfast hamper with bread, cereal, jams and more
Gourmet cheese and pate platter to share
RAINFOREST RETREAT
Luxury Pavilion - Nov 18
Inclusion Highlights:
Inclusions valid for two people (max. room capacity is two adults and one baby, see 'Fine Print' for details)
Welcome bottle of French champagne and imported beers
Breakfast hamper with bread, cereal, jams and more
Gourmet cheese and pate platter to share
RAINFOREST RETREAT
Luxury Pavilion - Nov 18
Inclusion Highlights:
Inclusions valid for two people (max. room capacity is two adults and one baby, see 'Fine Print' for details)
Welcome bottle of French champagne and imported beers
Breakfast hamper with bread, cereal, jams and more
Gourmet cheese and pate platter to share
Escape to Cape Tribulation, the beautifully unique destination in Queensland that offers both stunning coastal scenery and lush rainforest. Marvel at the crystal-clear ocean, the majestic Bloomfield waterfall and the Great Barrier Reef, one of Australia's most iconic natural wonders.
🌿The Conscious Collection: Nestled at the crossroads of two UNESCO World Heritage sites, this high-end boutique stay promotes eco-conscious travelling. Mist at Cape Tribulation is all about disconnecting from everyday life and immersing yourself in the beauty of nature, so take this time for a complete digital detox. With the environment always at the forefront, the property relies solely on solar power and encourages minimal power usage in an effort to embrace an eco-sustainable lifestyle in the rainforest.
Do you care about your carbon footprint? Check out our other conscious partners who are making a difference, without compromising on luxury.
What You'll Love…
The Property – Boutique luxury in the midst of the rainforest
Nestled between the Daintree Rainforest – believed to be around 156 million years old – and the Great Barrier Reef you'll find Mist at Cape Tribulation, a luxurious boutique property that opened late 2018. Unwind and reconnect with nature among the lush greenery and the peaceful on-site creek, supplied all year round with fresh water from the majestic Mount Sorrow.
Two-person hammocks dot the property's grounds, changing location depending on the weather – finding them is part of the fun as you wander amidst some of the world's rarest palm trees.
Make time to stop in the small orchard, where, when in season, you are free to pick and try the tropical fruits.
The Apartment – Your very own, self-contained luxury pavilion
Relax in a Luxury Pavillion, your tranquil oasis in the heart of the rainforest. Named after majestic palms on the property - Magnifica, Pandanus and Royal - each Pavillion features a spacious king-size bed with Belgian Flax linen and pillow menu, kitchenette, dining area, three-seater sofa, luxury bathroom and an outdoor deck with expansive rainforest views. Wake up to the sounds of nature and a cup of coffee from the machine in your room, with the cupboards also equipped with crockery and stocked with basic supplies of condiments, cereal, tea, milk, salt and pepper, should you wish to self-cater.
Slip on the welcome thongs you'll find on your doorstep and relax with a drink, with a bottle of French champagne and imported beers waiting for you on arrival.
Luxuriate in the knowledge that a leisurely late noon checkout is guaranteed, allowing you to take in every precious moment of your escape.
Pets Welcome: Mist at Cape Tribulation is pet friendly, offering pet bowls and the freedom to bring along your furry friend for long walks on the beach.
The Food – Complimentary breakfast hamper and gourmet cheese platter
Enjoy a leisurely start to your morning courtesy of a fully-stocked breakfast hamper included in your stay. Inside you'll find cereal, bread, jams and fresh fruit, setting you up for the day ahead.
You'll also be treated to a complimentary gourmet platter of cheeses and pate for you to enjoy on your private balcony.
The kitchenette has all the equipment you need to self-cater during your stay, but should you wish to dine out, you'll find a selection of great restaurants within walking distance.
Whet restaurant is a cosy spot offering meat, fish and vegetarian dishes, while Turtle Rock Café is a relaxed destination for fresh, wholesome food, including heathy takes on sandwiches, burgers, cakes and muffins. You're also just 800m from Cassowary Café, a casual eatery open daily for buffet breakfast and seasonally for dinner.
At an extra cost, the property is more than happy to assist with arranging a romantic dinner under the stars. Enjoy the unique experience of dining under the rainforest canopy, where the rainforest comes alive under the milky way. Either cook the meal yourself or let Mist at Cape Tribulation liaise with local restaurants to cater the experience (weather dependant, bookings essential).
The Flexibility – No blackout dates or seasonal surcharges
Travel with peace of mind and no restrictions thanks to a full calendar of dates to choose from. There are no seasonal surcharges, meaning the price of your escape stays the same, whenever you decide to travel.
See & Do – Let the natural beauty of Queensland take your breath away
A stay in Cape Tribulation is all about making the most of the nature on your doorstep. Explore Daintree National Park, relax on the beach or arrange a guided nature walk through the rainforest. For the adventurous there are zipline and aerial experiences available, while a boat tour will take you closer to the splendor of the Great Barrier Reef.
The Nature – Spot rare birds and marvel at a vast array of exotic plants
Settling on the deck of an evening you will hear the calls of the Lesser Sooty Owl, a sound reminiscent of fireworks and unique to this part of Australia. Victoria's Rifle birds are seen on the property frequently, with their amazing mating dance a truly rare and beautiful sight to behold.
The pavilions have their resident sunbirds, tiny yellow birds common to the area. Watch them build their decoy nest, then zip to the one that holds their babies, cleverly protecting their young from predators.
Keep an eye out for the Cassowary and its chicks, another bird often spotted on the property.
Enjoy the wide variety of natural foliage surrounding the site, with the orchard home to exotic fruits including mangos, purple mangosteen and durian.
The palms adorning the property are so rare, their seeds have been supplied to Cairns Botanical Gardens to help propagate the species. Walk among magnificent trees as tall as 150ft, then return to your balcony and watch the fireflies play at night.
Perfect for… Rejuvenating mind, body and soul
Switch off from everyday life and reconnect with a loved one on this peaceful escape into nature. Let the gentle sounds of the rainforest lull you to sleep and revel in the lush greenery and unique beauty of this natural paradise.
Valid for travel until  31 October 2019 (bookings must be made before 31 August 2019).
Check Availability: To confirm your dates of stay at purchase, click on 'Check Availability' and select your preferred package. Use the calendar to browse and select available dates. Dates with a surcharge are identified.
Buy Now Book Later: If you want to secure this offer and don't know when you want to travel please select 'Buy Now & Book Later'. This will secure your package and give you the flexibility to choose your travel dates - within the book by and validity period and subject to availability. To select dates post purchase, simply select 'My Escapes' under the 'My Account' tab and follow the prompts.
7-Day Change of Mind 'No Questions Asked' Refund Guarantee: Things don't always work out. Our 7-day Change of Mind Guarantee is there to help. Within 7 days of purchase we'll happily provide a full refund on cancellation of your escape (so long as you don't have a confirmed booking/stay in the next 14 days).
Feel Like Changing your Dates? No worries…You can make one (1) change to the date of your booking provided the change is made no less than 45 days before the start of your original booking date and provided you choose dates which are of an equal value and are available. Any change to booking dates is subject to and must be made online in accordance with our Terms and Conditions.
Luxury Pavillion – Package valid for two adults
Maximum Room Capacity: The maximum room capacity is two adults and one infant. See the 'Baby  Policy' below:
Extra Guest Policy: Additional guests are not permitted.
Child Policy: Additional children are not permitted.
Baby Policy: One infant (aged two years and under) may stay free of charge. You will need to bring your own cot.
Connecting rooms are not available.
Please note that full terms and conditions apply. Refer to website's terms and conditions.
Booking Guarantee
Purchase with confidence. We offer a 7-day 'Change of Mind' no questions asked guarantee.
Exclusively negotiated offers. We go direct to ensure you get the best price possible.
Quality guaranteed.