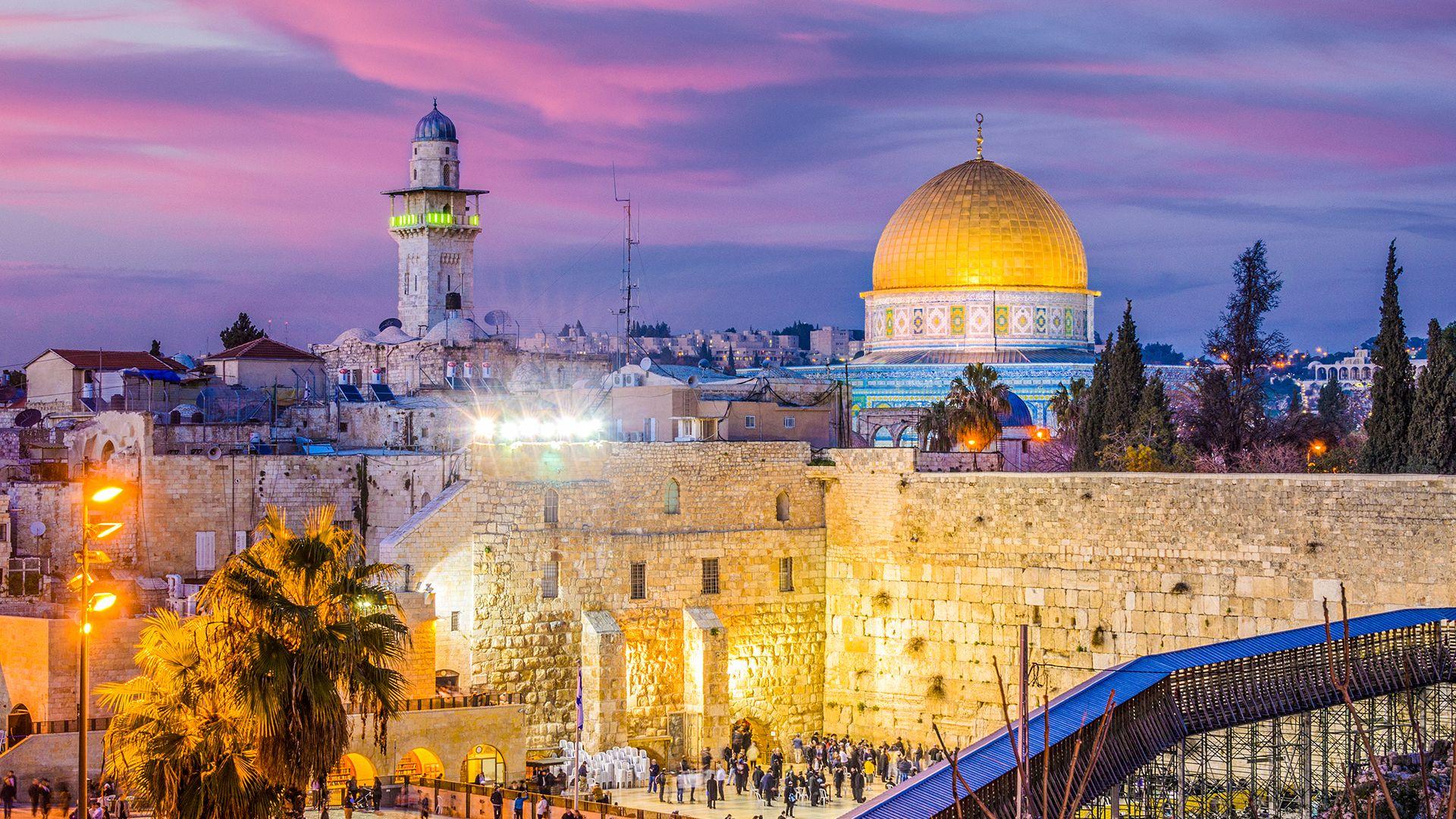 Wonders of Israel & Jordan: An Unforgettable 12-Day Tour
From the sacred archaeological sites of Jerusalem to the splendour of Petra, take a 12-day adventure through Israel and Jordan visiting historical religious sites and the unspeakably majestic desert landscapes in between. Wander the bustling streets of Tel Aviv, uncover secrets of the Old City of Jerusalem, witness the Holy Land from atop Mount Nebo, plunge into the famous waters of the Dead Sea and wander amongst the carved hidden city of Petra. Includes 11 nights of deluxe accommodation in prime locations, daily breakfast and two dinners, visa fee for Jordan, services of an English-speaking tour manager, private air-conditioned transportation throughout and more.
Package Options
---
Inclusion Highlights:
Packages valid for one person, based on twin share - You must purchase TWO packages
11 nights of deluxe accommodation including one night in Tel Aviv, two nights in Tiberias, three nights in Jerusalem, one night in the Dead Sea, two nights in Petra and two nights in Amman
Daily breakfast and two dinners
Tour the astounding Roman, Byzantine and Crusader ruins at ancient Caesarea
Experience a heady mix of archaeological wonder and modern culture as you embark on an unforgettable trip through some of the Levant's most historically intriguing countries, Israel and Jordan. From the bustling markets of Tel Aviv to the diversity of Jordan's capital city, you'll tick two Middle Eastern gems off your ever-growing bucket list.
What You'll Love...
The Sights – Stand in awe in front of the beauty of Petra, discover the Old City of Jerusalem and more
Your first stop in Israel is the cosmopolitan city of Tel Aviv, where you will be able to enjoy some leisure time to explore some of the city's splendid Bauhaus buildings, wander along the beach promenade and the Jaffa Port with its fascinating Arab heritage or get lost in the Sarona market - the heart of Israel's culinary art scene.
Next, journey to the ancient harbour of Caesarea, before arriving in Tiberias, a remarkable city nestled on the shores of the tranquil Sea of Galilee – the largest freshwater lake in Israel.
Discover one of the oldest cities in the world, Jerusalem: walk through the city's colorful neighbourhoods before enjoying a city tour that'll take you through Jerusalem's Old City, visiting the four distinct sections – the Christian, Jewish, Muslim and Armenian Quarters. Travel back in time and learn about the past with an optional visit to the commanding Yad Vashem – the official memorial and museum to the Jewish victims of the Holocaust.
Visit the Dead Sea, one of the Seven Wonders of the World and the lowest point on earth, sitting 400 metres below sea level. Said to do wonders for the mind and skin, you'll experience what it's like to float on the only body of water in the world that allows nothing to sink due to its high level of salt.
Journey on to discover the magic of Petra on a day tour, revealing an intricate network of tombs, caves, a small amphitheatre and ruins of temples dotted around the area. Hidden from the western world until 1812, Swiss explorer Johann Ludwig Burckhardt rediscovered this ancient carved city and shared it with the world. UNESCO dubbed it one of the most precious cultural properties of man's cultural heritage.
Ascend Mount Nebo, the sacred ridge where Moses was purportedly granted a view of the Promised Land. Gaze upon a breathtaking view of the Holy Land between the Jordan River and the Mediterranean Sea at this site reputed to be the burial place of Moses himself - according to Christian tradition.
End your tour in Amman, Jordan's capital city where ancient ruins and modern buildings sit side by side. Visit Amman's main attractions at your leisure, discovering the ancient Citadel monument, marking the centre of the capital, the Temple of Hercules and the Roman Theatre, one of the largest and most impressive amphitheaters of the ancient world.
Your Package Includes:
11 nights of deluxe accommodation including one night in Tel Aviv, two nights in Tiberias, three nights in Jerusalem, one night in the Dead Sea, two nights in Petra and two nights in Amman
Daily breakfast and two dinners
Tour the astounding Roman, Byzantine and Crusader ruins at ancient Caesarea
Discover the pristine Sea of Galilee, the largest freshwater lake in Israel
Explore the ancient city of Jerusalem
Uncover Petra, one of the New Seven Wonders of the World
All sightseeing and entrance fees as per the itinerary
Local, English-speaking tour manager
Private air-conditioned transportation throughout the tour
All hotel taxes, fees, service charges, tipping and gratuities
Visa fee for Jordan
The '7 day change of mind guarantee' does not apply for Tour bookings. Due to the high demand and limited departures any cancellation / refund requests must be made within 48 hours of purchase. Otherwise, the standard tours Refund Policy applies.
Valid for the following departure dates:
26 November 2019
14, 24 January 2020
18, 28 February 2020
3, 6 March 2020 (amended 5.40pm 3/6/19)
Important: Please allow for travelling time. International flights are not included in your package and must be purchased separately. It is your responsibility to make your own travel arrangements and ensure that you arrive in Tel Aviv for your chosen tour start date.
The package is valid for ONE PERSON (based on twin share) aged 12 years or older. If you are travelling with another person you must purchase TWO PACKAGES, otherwise, an additional single traveller surcharge will apply (see below). Single travellers will get their own room throughout the tour.
Single Traveller Surcharge: Single travellers must pay a surcharge of AU$650 per person directly to the tour operator. Single travellers will have their own room throughout the tour.
Maximum tour group size is 42 people.
Standard bedding configuration is one double bed or twin beds on request.
Maximum Room Capacity: Maximum room capacity is two adults. Three people can be accommodated on request sleeping on a rollaway or sofa bed but this is strictly at the discretion of each hotel and cannot be guaranteed. Please contact the tour company directly if you wish to make this request.
Tour includes accommodation at the following hotels:
Tel Aviv: Hotel Metropolitan
Galilee: Nof Ginosar
Tiberias: Ron Beach Hotel
Jerusalem: The Dan Jerusalem Hotel
Dead Sea: Holiday Inn Dead Sea
Petra: Movenpick Nabatean Castle Hotel
Amman: Holiday Inn Amman
Allocated hotels are subject to availability and may be replaced with a similar hotel depending on your chosen tour date.
International flights and airport transfers are not included on this tour. Airport transfers can be pre-booked with the tour operator for an additional charge.
Dining inclusions do not include beverages (unless otherwise stated). Menus are subject to change without notice.
Booking confirmation must be presented at check-in.
All surcharges are payable directly to the tour company.
Please note: Disability access is limited during the tour, please consider this before making your booking. Hotels may not have ramps, wide entryways or elevators to accommodate disabled passengers or devices such as wheelchairs, walkers and motorised scooters. Due to physical constraints and space limitations, wheelchairs, walking frames and motorised scooters may not be taken aboard motor coaches.
Please note: This active program covers a good amount of ground each day. Expect from two to three hours walking on some touring days. The pace is moderate however you will encounter some uneven surfaces, stairs, steps and significant slopes. We suggest you check with your health-care provider before signing up for this tour.
Important: Israel B2 Stay Permit ("Electronic Gate Pass"): Upon arrival in Israel at Passport Control, you will receive an Israel Border Control / B2 Stay Permit called an "Electronic Gate Pass". Issuance of the pass replaces the need to stamp your passport. The Electronic Gate Pass is your official form of identification in Israel and must be kept in your possession at all times. Escorted tour group guests should bring this pass to the Welcome Meeting as your Tour Manager must record information from it to facilitate express hotel check-in during your tour.
Entry Fees/Departure taxes are required as follows: Israel Crossing from Israel to Jordan via ALLENBY or SHEIK HUSSEIN Bridges: Israel departure fee varying between 100-185 Shekels (approx. US$26-51); Crossing via RABIN (from Eilat) for Optional One Day Petra tour: Israel departure fee of approximately US$65 and Jordan visa fee of approximately US$60
Israel and Jordan Border Crossing: Please be advised that the border crossing from Israel to Jordan can be lengthy due to very strict security measures. Border officials will thoroughly check the bus and all luggage, bags, gifts etc. All vehicles are subject to this type of detailed search and if any large vehicles (such as trucks transporting goods) are ahead of the bus at the border, the process will be further delayed. Your transfer into Jordan is with a group visa. There is a neutral zone between the border that your Israel Tour Manager can't cross. Therefore, one of the passengers will be assigned to carry the visa to the Jordan border crossing on behalf of the group to meet your Jordan tour manager.
Jordan: It is forbidden by law to bring and use binoculars.
Optional Tours are to be booked and paid directly with the tour provider, prices as below:
​
Full Day Upper Galilee & Golan Heights AU$134pp
​
Half Day Bethlehem AU$50pp
​
Full Day Masada AU$133pp
​
Sound & Light Show AU$103pp
​
New City of Jerusalem AU$82pp
​
Jordan Valley AU$179pp
​
Wadi Rum AU$81pp
​
Half Day Jerash AU$198pp
​
Half Day Amman AU$111pp
Please note that full terms and conditions apply. Refer to website's terms and conditions.
Please note this tour is not operated by Luxury Escapes. You will be contacted post-purchase with further details.
Booking Guarantee
Exclusively negotiated offers. We go direct to ensure you get the best price possible.
Quality guaranteed.